Want to Go Tubing on The Kettle River?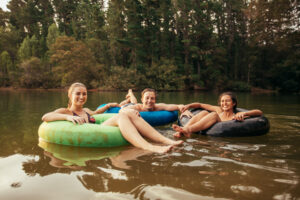 Here's How It Works:
When you come to the Riviera RV Park, we can rent you a tube for just $20 per day.
We can drop you off at one of three starting points for a two, four or six hour tube ride!
From there, you simply wade out into the river, hop in your tube and let the Kettle River take you on a beautiful tour until you arrive back at our RV Park.
The three spots are Grand Forks City Park, Spraggett Bridge or the USA Border area.
Come tubing with us… and bring sun screen!
For more information or to reserve your spot, call the office at 250-442-2158 or call Toll Free: 1-855-442-2158